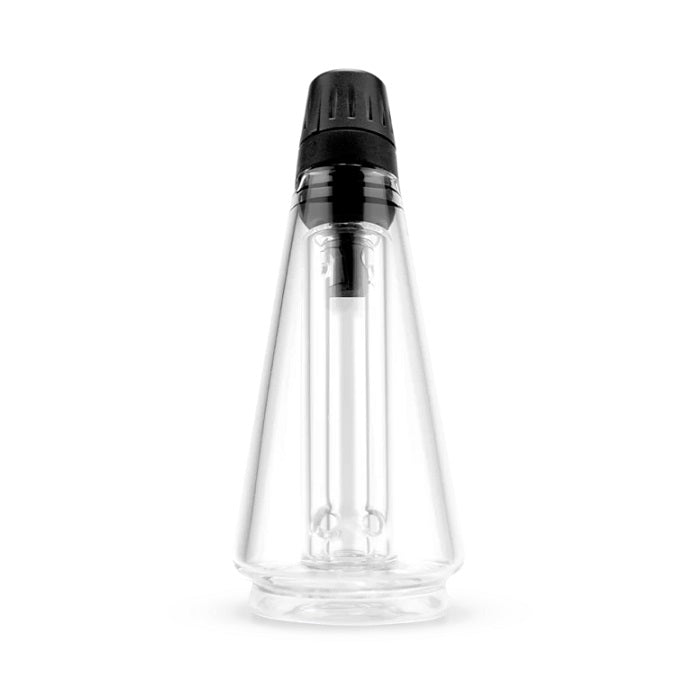 About the Puffco Peak Travel Glass
Vaporizers and dab rigs with water filtration units simply aren't made to be used on-the-go. You're bound to spill all the water and either make a mess or just downright break the vaporizer from water damage. Well, that's what we all thought. Puffco just dropped its latest accessory to the Puffco Peak Smart Dab Rig – the Puffco Peak Travel Glass.
The company they are from which many vaporizer enthusiasts have known for ingenuity and innovation, Puffco once again redefines the vaporizer industry. The platform that was defined by the Peak is getting revolutionized as the Puffco Peak Travel Glass brings a whole new meaning to portability. The Puffco Peak Travel Glass is part of a set of accessories released by Puffco promoting portability and freedom of movement while still getting eRig like performance. We're getting the bag and a few travel gears but it wouldn't at all be possible without the Puffco Peak Travel Glass.
The Puffco Peak Travel Glass was designed and engineered to give you a secure seal on the water filtration unit of the Puffco Peak even when you're carrying it with water in it. This means that the Puffco Peak Travel Glass will securely keep all the water in never allowing a single drop to escape the glass. This is best especially when you're taking impromptu sessions with friends or even when you're doing it solo. Now nothing can stop you, enjoy superior portability with the all-new Puffco Peak Travel Glass!
Patent-Pending Closure System
The Puffco Peak Travel Glass uses a patent-pending technology that locks the glass and keeps the water from spilling. This is perfect for when you want to take the Puffco Peak Smart Dab Rig out for a spin, best for when you're packing the Puffco Peak dab rig in a backpack or better yet, with the Puffco Peak Bag.
Want to take your Puffco Peak portable e-rig with water in it? Want to experience using a portable dab rig like you would a vape pen? How about when you're in a rush, waking up in the morning and realizing you need to head somewhere? You no longer have to worry about having to come with your own ray of sunshine. Get lifted anywhere, any way you want. The water in your Peak won't hold you back, in fact, you can use it to your advantage and enjoy moisture conditioned hits on the fly.
Forget about using vape pens that have tiny bubblers on them, they have only trivial and minimal effect. The Puffco Peak Smart Dab Rig is the new way to go. Pack a powerful punch on-the-go with a portable dab rig and enjoy the power of true water filtration with the Puffco Peak. It's like carrying a portable bong, just make sure that you find a place where you can sit down after one long drag because the Puffco Peak Smart Dab Rig can surely put you down a good amount of time since it can unlock the full potential of your wax concentrates. Imagine wielding this power on a more portable platform. In fact, it's the very same platform made more mobile, made more portable, made more versatile.
This design allows you to fill the Puffco Peak with water and even drain it using only two positions. No need to go through complicated steps, the Puffco Peak Travel Glass allows you to do all this in just two easy steps. This makes the experience all the more convenient and less complicated.
Since the design and engineering of this product is Puffco's very own, it's very likely you won't see this from any other company or manufacturer.
This truly shows how ingenious the folks at Puffco are. They are not limited by the boundaries of the very product they made; this means so are you, the customers. If you're looking for a new dab rig or if you're on the market for a vaporizer that hits you hard yet allows you to take it with you to places you simply can't bring a portable dab rig, now's the best time to but a Puffco Peak Smart Dab Rig with the Puffco Peak Travel Glass.
A Leak-Proof Peak
The Puffco Peak Travel Glass makes the Puffco Peak Smart Dab Rig leak-proof. This prevents unwanted mess or worse, water damage. You know for a fact that devices like the Puffco Peak runs on batteries and that they have electrical circuitries inside of them. Even a drop of water that can make its way inside the battery can hurt you and your vaporizer permanently making the Puffco Peak Travel Glass an essential part of your Puffco Peak arsenal.
The Puffco Peak Travel Glass ensures that liquid will not escape the glass holding the water. You no longer need to drain the glass every time you stand or leave a session. This allows you to enjoy more time and to be a little carefree and live dangerously with the Peak. A leak-proof device ensures that you can experience and enjoy your Puffco Peak Smart Dab Rig longer and maintain the overall integrity of your e-rig. The risk of water damage and spillage is greatly reduced making vaping with the Puffco Peak portable dab rig safer and more convenient.
The Puffco Peak Travel Glass makes the Puffco Peak Smart Dab Rig a little more favorable for consumers who are active and who are always on the move. Professionals who need to use a reliable dab rig who are always moving from one place to another can now look at portable e-rigs like the Puffco Peak as a viable option for their consumption needs. This broadens your horizons and increases the potential of you making the most of your session and of maximizing the flavor and potency of your materials.
Furthermore, a portable dab rig that won't leak means that you can easily share the experience with friends and families who need to reap the benefits of your materials. So, if you're a Puffco Peak owner, make sure to grab the Puffco Peak Travel Glass now!
What's in the box:
1 x Puffco Peak Travel Glass
Puffco Peak Travel Glass Tips & Tricks
Get the best deal on Puffco Peak Travel Glass for sale online, visit VapeActive Coupons Page and get the best vaporizers for the best price. Check out our online vape discounts and deals, and because we're the best in the industry, we'll even match the sale price of any authorized reseller you can find.
QUESTIONS & ANSWERS
Have a Question?
Be the first to ask a question about this.
Ask a Question