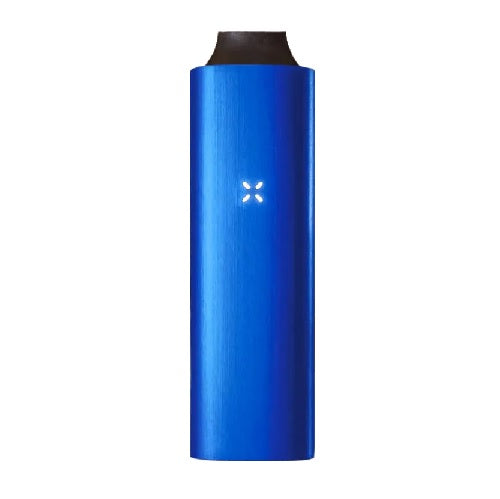 Please visit https://www.vapeactive.com/pages/faqs for frequently asked questions on PAX.
About the PAX 1 Vaporizer
The PAX 1 Vaporizer is PAX's very first unit and its flagship model. It sports a linear and minimalistic design that made for a discreet and stealthy vaporizer. It vaporized dry herb strain and other loose-leaf botanicals and was one of the very first dry herb vaporizers to do a phenomenal job of heating and vaporizing your herbs without reaching the point of combustion.
It looked and felt technologically advanced and was even dubbed as the iPhone of vaporizers at one point – a moniker given only to some of the best devices the industry had to offer. It offered three calibrated preset temperature settings that were fine-tuned for optimal dry herb consumption. Instead of using a traditional battery charger, the PAX 1 Vaporizer used a charging dock that allowed you to recharge your vaporizer as it stands up straight. Being docked into the actual charger prevented consumers from using it whilst being charged which may have improved the device's battery life. While other vaporizers at its time took several hours to recharge, the PAX 1 Vaporizer took only 2 hours to reach a fully charged battery allowing you to take tokes as soon as your buzz dies down.
The PAX 1 Vaporizer offered consumers a new and convenient way of vaping with dry herbs. It used an herb chamber that was simply unconventional in design and was engineered to be as efficient and as effective as possible. Having said, the strongest suit of the PAX 1 Vaporizer is in its battery life and vapor production. So, for those who are looking for an affordable dry herb vaporizer that boasts stellar battery life and is just exponentially better than the average portable dry herb vaporizer in terms of vapor production, the PAX 1 Vaporizer is the right portable dry herb vaporizer for you.
Built for Hell and Back Reliability
If there's one thing many consumers loved about the PAX 1 vaporizer is its high-quality build. From the outside down to its core, the PAX 1 Vaporizer was made to be a reliable dry herb vaporizer.
The PAX 1 Vaporizer is housed in a metal body is made from anodized aluminum. A strong and lightweight body that allows you to carry the PAX 1 Vaporizer with confidence whether it's in your pocket or in your bag. The shell protects all the internal circuitry and the components that make the PAX 1 Vaporizer the vaporizer that it is. Anodizing aluminum also provides it with a durable and tough surface so the PAX 1 Vaporizer won't easily have its paint scratched. Nevertheless, putting the PAX 1 Vaporizer in your pocket with coins or with a key may dent or scrape the surface of the PAX 1 Vaporizer when enough pressure is applied. The anodized aluminum used in the body of the PAX 1 Vaporizer is also designed to allow heat coming from the heating element of the device to spread excessive heat.
One layer deep, you'll find the vapor path of the PAX 1 Vaporizer that's made from surgical-grade stainless steel that's isolated from the rest of the components of the PAX 1 Vaporizer. This ensures that the vapor is far from contact from any part of the vaporizer that may react chemically and negatively to heat. This keeps the vapor safe and the internal components of the PAX 1 Vaporizer also safe from exposure to excessive heat. This is one of PAX's secret to keeping their devices delivering exceptional vapors. Furthermore, the PAX 1 Vaporizer uses a non-ceramic tuned thin-film heating element that's carefully bonded and integrated to the stainless-steel oven by way of laser welding which is also separated and isolated from the vapor path.
The PAX 1 Vaporizer also uses materials made from plastic. However, PAX ensures that all plastic materials used in the construction of the PAX 1 Vaporizer are made from food-safe plastic of the utmost quality.
All PAX 1 Vaporizers are a sign of safety and reliability. That's why many medical consumers choose to invest in PAX 1 Vaporizers.
To ensure overall product quality, manufacturing of all PAX devices is managed and controlled by a team of specialists and original engineers from PAX's headquarters in San Francisco. They provide their professional insight and strict supervision to create an ideal environment for creating devices with impeccable quality.
Superior Quality
PAX has been a brand whose name has been synonymous with quality. Having said, to ensure that they live up to their reputation, PAX keeps every PAX product, including the PAX 1 Vaporizer, compliant to regulatory rules. All products coming out of the PAX warehouse are FCC compliant. This means that all their vaporizers have been tested and have passed FCC regulations which means that they have reasonable protection against harmful interference. All PAX 1 Vaporizers are diligently kept compliant to this rule so as to ensure PAX's customers' safety as well.
Furthermore, PAX also complies with local proposition laws and is committed to complying with the said state law. They ensure that all PAX 1 Vaporizers are given all the necessary labels to let the customers know what kinds of raw materials are used in manufacturing these devices.
PAX devices like the PAX 1 Vaporizer are one of the safest devices to use on the market. They are made with superior quality in mind. That's why PAX chose the best materials and manufactured these raw materials using the best methods from the core to the body that houses the vaporizer itself. Even though some of the parts of the PAX 1 Vaporizer is made out of plastic, these plastic parts are made from heat resistant raw materials which make them altogether safe. All these contribute to the reputation the PAX 1 Vaporizer has built over the years and makes it so that it continues to hold that place in the hearts and in the minds of many consumers. So, if you're looking for your next new dry herb vaporizer or maybe if you're out there looking for your first, the PAX 1 Vaporizer is a solid choice.
What's in the box:
1 x PAX 1 Vaporizer
1 x Charging Dock
1 x Wall Charger
1 x Cleaning Kit
1 x User Manual
Pax 1 Vaporizer Tips & Tricks
Get the best deal on Pax 1 Vaporizer for sale online, visit VapeActive Coupons Page and get the best vaporizers for the best price. Check out our online vape discounts and deals, and because we're the best in the industry, we'll even match the sale price of any authorized reseller you can find.
QUESTIONS & ANSWERS
Have a Question?
Be the first to ask a question about this.
Ask a Question
Best Vape Ever
The original is still the best!