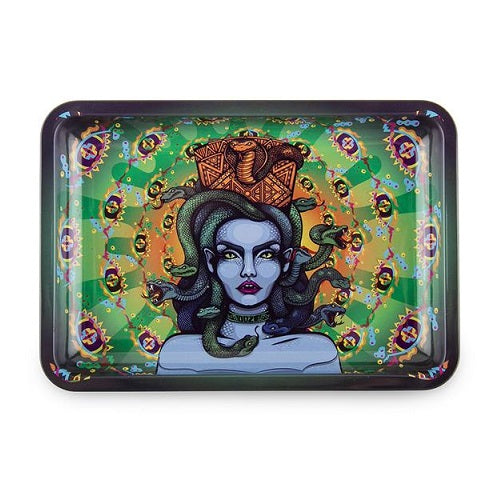 Artistic and Aesthetic - Ooze Rolling Tray
The Rolling Trays by Oozelife features befitting artworks making them expressive and perceptive pieces of art. Unique rolling trays only from Ooze.
Ooze Cursed Rolling Tray
The Ooze Cursed Rolling Tray is the perfect salver for all your vaping needs. It's made of sturdy and high-grade materials. By using the best raw components the industry can offer, Ooze made sure that the surface of the Cursed Rolling Tray won't easily chip off – an important thing to consider especially when rolling and packing your joints on a plate. Cheap trays that tend to shave and splinter may leave some of its pieces in your dry herb mix, and trust us, you certainly don't want to inhale smoke and vapor with cheap plastic in it.
Ooze High Tide Rolling Tray
Wanting to ride the high waves? Get yourself the Ooze High Tide Rolling Tray that's made from high-grade materials. Designed for people who like getting lifted without the mess, this unique rolling tray comes in two sizes; a small travel tray that measures 5 inches by 7 inches, and a medium rolling tray at 7.67 inches by 10 inches. Whether you like to bring your rolling tray around for your vaping and smoking needs when you travel or for when you like to grind your herbs and roll joints at home, the Ooze High Tide Rolling Tray has got you covered.
Ooze Eruption Rolling Tray
A beautiful catastrophe, the Ooze Eruption Rolling Tray perfectly depicts the beauty of smoking dry herb. Not only does this rolling tray make for an interesting conversation piece when you and your friends start rolling some joints but it's also a practical means of keeping your materials clean. Don't let dirt and filth contaminate your favorite loose-leaf materials. Grime and grunge can cause unwanted irritation apart from the occasional coughing and hawking you get from smoking. Keep your smoking and vaping sessions fresh and clean with the Ooze Eruption Rolling Tray.
Ooze Monsterous Rolling Tray
For the imaginative genius, the Ooze Monsterous Rolling Tray is the perfect dish to help you roll your joints, pack your bowls and help you boost your creativity. The doodled images make for a psychoactive panoramic sight. The Ooze Monsterous Rolling Tray comes in two sizes, get them both so you'd have one to bring for your travels and one for when you're smoking at home. Each rolling tray is made from high-quality raw material to ensure quality and user satisfaction, these trays are simply "monsterously tough" and will last you a long time.
Ooze DJ Loud Rolling Tray
The Ooze DJ Loud Rolling Tray is the right choice for people who like to rock out with their herbs out. For the loud and proud botanical consumer, the Ooze DJ Loud Rolling Tray makes for the ideal paten for all their rolling and grinding needs. Hate wasting ground material when you transfer herbs from your grinder to your vaporizer, your bowls or when you're rolling joints? The Ooze DJ Loud Rolling Tray can help you deal with the pain of losing herbs in the process, you now have a safe and secure tray for all your smoking or vaping rituals.
Why Use A Rolling Tray
Rolling trays are practical and beneficial tools for every dry herb consumer. It keeps your herbs in one place allowing you to avoid mess and from wasting your loose-leaf materials. Whether you like to grind your botanicals or if you like them in chunky nugs, rolling trays keep them all in one place.
What's in the box:
Ooze Rolling Tray Tips & Tricks
Get the best deal on Ooze Rolling Tray for sale online, visit VapeActive Coupons Page and get the best vaporizers for the best price. Check out our online vape discounts and deals, and because we're the best in the industry, we'll even match the sale price of any authorized reseller you can find.
QUESTIONS & ANSWERS
Have a Question?
Be the first to ask a question about this.
Ask a Question