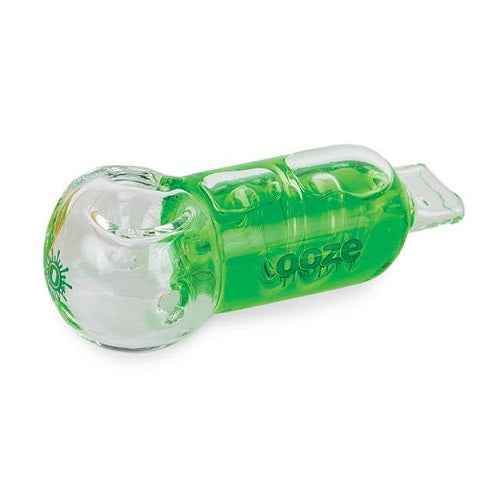 Ooze Cryo Glycerin Bowl
The Ooze Cryo Glycerin Bowl is the ideal toke tool for when you like to just "chill" out – pun intended. The Ooze Cryo Glycerin Bowl is an easy means of cooling your smoking sessions without the use of any complicated devices. Simply put the Ooze Cryo Glycerin Bowl in your freezer, let it sit for a while, take out your Ooze Cryo Glycerin Bowl and let the cool times roll. This glass bowl gives you something no other glass bowl can offer, a smooth and subtle toke. If you're tired of getting your throat and your lungs irritated from coarse and harsh smoke, the Ooze Cryo Glycerin Bowl is the perfect companion for those who want to experience a whole new cool in smoking their favorite botanical blends. This nifty smoking tool from Oozelife helps you cool down your sessions effectively.
Cooling Your Smoke Smoothens Your Hits
Using the Ooze Cryo Glycerin Bowl not only lets you look cool but also has some significant advantages compared to using just your regular bowl. Once frozen, the Ooze Cryo Glycerin Bowl can cool down your smoke which may otherwise damage your lungs. When huffing and puffing smoke either from a joint or from a packed bowl, your lungs are exposed to temperatures reaching over 800 degrees Celsius. Prolonged exposure to such temperatures may cause lung damage and other lung-related problems. The Glycerin filled glass bowl effectively holds down the temperature to provide you smoother hits, toking on the Ooze Cryo Glycerin Bowl reduces the risks of lung damage as well as fewer instances of coughing and irritation.
The Ooze Cryo Glycerin Bowl features a spiral air path that's covered in glycerin. Glycerin is a natural, odorless, and non-toxic substance that effectively cools down the spiral path where the smoke travels. The engineering of the glass bowl itself allows the smoke to have a longer travel time due to the twisted and coil-like shape of the inner pipe where the smoke goes through. This allows and promotes further cooling as compared to a glass bowl with a straight air path. Giving the smoke more time to travel also allows some of the irritants to break away from the actual gaseous output and makes your pulls easier for both your throat and your lungs.
Ooze Glass Bowls Are The Safest Smoking Equipment
While the Ooze Cryo Glycerin Bowl is notable for being a "freezable" glass bowl that actually works, it's also good to know that the benefits of using the Ooze Cryo Glycerin Bowl does not stop there. Yes, the Ooze Cryo Glycerin Bowl's not through yet. They're made from lab-grade glass pieces so you're sure that the entire glassware will not have any effect on your dry herbs. Glass is known for being an inert component so it won't chemically react to heat and will not rub off on the smoke keeping the flavors and the aroma of your select plant matter.
The Ooze Cryo Glycerin Bowl also is made with a flat mouthpiece for a more comfortable and convenient experience. Well, you simply just can't beat that. Try out the Ooze Cryo Glycerin Bowl and experience the chilling difference.
What's in the box:
1 x Ooze Cryo Glycerin Bowl
Ooze Cryo Glycerin Bowl Tips & Tricks
Get the best deal on Ooze Cryo Glycerin Bowl for sale online, visit VapeActive Coupons Page and get the best vaporizers for the best price. Check out our online vape discounts and deals, and because we're the best in the industry, we'll even match the sale price of any authorized reseller you can find.
QUESTIONS & ANSWERS
Have a Question?
Be the first to ask a question about this.
Ask a Question
Wow
Finally found this! Been looking for this in the market, thanks!