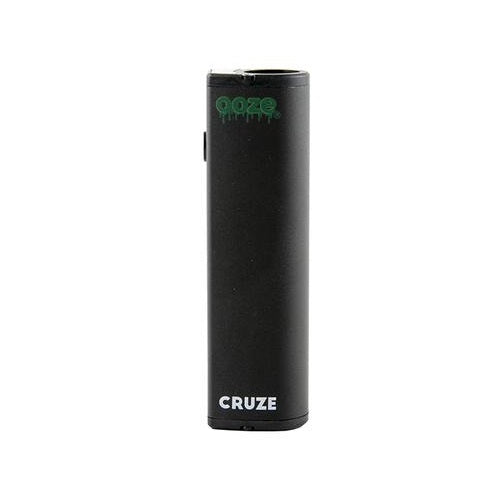 Ooze Cruze Extract Battery Kit
One of the most portable and travel-friendly vape batteries in the industry, the Ooze Cruze Extract Battery Kit by Oozelife is the ideal battery pack for those who love vaping on extracts and concentrates. The Ooze Cruze Extract Battery Kit offers temperature control and magnetic connections making it a widely compatible battery with some of the best cartridges on the market. It has 650mAh battery capacity and can be charged with an inclusive micro USB charging cable which can be used in conjunction with a variety of devices like your computer, your laptop, your power bank and even the USB outlets found on your car. Unlike other vaporizers that rely mainly on wall chargers, the Ooze Cruze Extract Battery Kit opens up a wide spectrum of charging option s for you. And, if that's not enough, the Ooze Cruze Extract Battery Kit features a 15-second pre-heat function which allows you to enjoy a continuous stream of vapor without having to hold down the power button. But why? Have you ever found yourself with a vaporizer that seems to fall short on vapor production? Have you ever wanted more but can't seem to squeeze enough vapor from your device? The answer is Ooze Cruze Extract Battery Kit's 15-second pre-heat mode which ensures you get an uninterrupted flow of vapor for that powerful lung-ripping hits, only from Ooze.
Why Temperature Control Is Important
Any vape user knows that in vaping, temperature plays a vital role in one's overall experience. Sure, you can get lifted even when using a vaporizer with a single temperature setting. But, what if you can have more? Having the option to go with low-temp dabs or high-temp vapors allow you to customize your sessions as well as the actual upshots from your select concentrate materials. Furthermore, some concentrates have high-density compositions while others can be runny and thin. Having a vape battery that can adapt to these materials are extremely beneficial especially if you plan on using different kinds of extracts.
The Ooze Cruze Extract Battery Kit boasts three preset temperature settings; 3.5 V, 3.8 V, and 4.2 V respectively. These temperature profiles are carefully selected to provide you with the best vaping experience, plus it's almost rare to find a variable voltage battery in Ooze Cruze Extract Battery Kit's price point. The three voltage setting lets you reap all the benefits of your materials while having the option of changing and deciding the visibility and density of the vapors you exhale. The lower voltage settings yield flavorful vapors with thin wisps while the higher voltage levels make for visible and heavy vapors.
Convenience In Magnetic Connections
Yes, magnets are now the trend in concentrate vaporizers especially the ones that use cartridges and tanks. Don't you just hate it when it's time to reload your vaporizer and you'd have to twist and turn the threads? Are you just plain tired of the mess you get when your extracts seem to get into the creases of the threaded ends? Well, Ooze has already thought of that and answered with the magnetic connections on the Ooze Cruze Extract Battery Kit. Reloading, removal, and replacement of your cartridges have never been this convenient. And if you're the individual that tend to lose small parts and pieces of your vaporizer, then don't worry. The Ooze Cruze Extract Battery Kit includes two magnetic connections straight right out of the box.
What's in the box:
1 x Ooze Cruze Extract Battery
1 x Micro USB Charging Cable
2 x 510 Threaded Magnets
Ooze Cruze Extract Battery Tips & Tricks
Get the best deal on Ooze Cruze Extract Battery for sale online, visit VapeActive Coupons Page and get the best vaporizers for the best price. Check out our online vape discounts and deals, and because we're the best in the industry, we'll even match the sale price of any authorized reseller you can find.
QUESTIONS & ANSWERS
Have a Question?
Be the first to ask a question about this.
Ask a Question
best battery for cartridges
variable voltage and nlong battery life