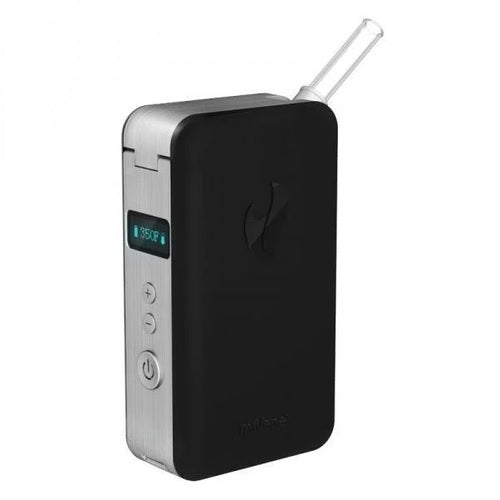 About the miVape Portable Vaporizer
The miVape Portable Vaporizer is Vaporfection's offering for a dry herb vaporizer. Only a few portable vaporizers can offer what the miVape Portable Vaporizer can and does so at an affordable and reasonable price point.
The miVape Portable Vaporizer uses convection heating which ensures that your herbs are heated evenly and efficiently without reaching the point of combustion. The miVape Portable Vaporizer also boasts features that allow it to preserve the overall integrity of your herbs. The miVape Portable Vaporizer uses an all-glass vapor path which ensures that your vapors are not exposed to any type of material that may affect the quality of the vapor's taste, aroma, and potency.
The miVape Portable Vaporizer is also outfitted with precise temperature settings which allows you to select the temperature profile of your choice. This means you can customize your sessions and achieve your desired results by taking advantage of miVape Portable Vaporizer's precision temperature control.
The miVape Portable Vaporizer is perfect for those looking for high-quality vapors in a small and compact vaporizer that they can carry almost anywhere they go. It's the true portable vaping experience for those who love consuming dry herb strains for both recreational and medicinal purposes. It's the perfect vaporizer for those who require a dry herb vaporizer they can bring with them that's head and shoulders better than what other dry herb vaporizers can offer.
True Convection Heating
Convection heating is often seen only on desktop vaporizers as smaller portable vaporizers tend to lean towards conduction heating. By allowing the miVape Portable Vaporizer to have a fully functional convection oven, the miVape Portable Vaporizer is able to offer high-quality vapors you'd find only on desktop rigs.
Convection heating involves the use of hot air to vaporize the herbs instead of relying on the heat transferred from pressing the herbs close to a heated surface. By using convection technology, the miVape Portable Vaporizer can heat your herbs evenly since it can effectively saturate and permeate the herbs leaving no part of the material left green or charred. By doing so the miVape Portable Vaporizer is capable of easily extracting all the active ingredients of your select dry herb strains without causing the negative effects of combustion. Many advanced consumers favor convection heating versus conduction heating primarily because conduction heating can cause your herbs to combust when vaporization is done without proper caution. Using conduction heating on your herbs will make them stay pressed on a heated surface and ground-up dry herbs run into the possibility of combusting when left on a heated surface for long durations of time. This is why many conduction dry herb vaporizers require users to constantly stir the contents of the chamber which can at times be annoying. With convection vaporizers, hot air reaches all the nooks and crannies of your ground material which makes for an effective and efficient vaping experience.
The miVape Portable Vaporizer prides itself on using a convection heating element that guarantees overall vapor quality. You're never going to get vapors as good as these in a vaporizer as small, as compact, and as affordable as the miVape Portable Vaporizer.
Superior Temperature Control
Many dry herb vaporizers on the market offer temperature control but there are very few devices that provide consumers with precise and full temperature freedom.
The precision temperature settings found on the miVape Portable Vaporizer significantly contribute to how well the vapors of the are produced. The folks behind miVape Portable Vaporizer studied long and hard the interaction of heat and the very herbs vaporized by this device. They have found that the herbs react differently to various temperature profiles and different levels of the botanical's active ingredients are extracted when subjected to various heat levels. This gave them the idea to allow consumers to explore and find the best heat setting they prefer to get the results that they want.
Basically, a lower temperature level will allow the extraction of the flavonoids and terpenes naturally found in your botanical plant matter. Having said, those who want a subtle buzz but want to maximize the flavor and the aroma they get from their select dry herb strains can explore cooler temperature profiles. Those who want to crank things up can set the temperature levels to the highest and experience a lung-ripping knock off your socks experience.
Temperature control plays a vital role in vaporization and the people who developed the miVape Portable Vaporizer know that. They not only gave consumers the ability to select the temperature of their choice but also to personalize the effects of their materials. You no longer have to bear with the preset temperature settings given to you by your old portable dry herb vape. You can now make an informed decision and a knowledgeable vaping session by deciding on what temperature profile you'll heat your herbs at.
Straightforward Operation
While the miVape Portable Vaporizer offers advanced desktop vaporizer-like features, it's still surprisingly easy to use and operate.
Operation is helped by the large LCD display which shows you information that will help you run your sessions better. The controls on the miVape Portable Vaporizer are also designed to work intuitively allowing you to easily understand the buttons and use them naturally.
Other features that make use and operation easy and convenient is the automatic shut-off timer. In many vaporizers, the timer is pre-determined. This means that the manufacturer ultimately decides on how long the device stays on before it automatically shuts down. With the miVape Portable Vaporizer, you'll have the option to adjust it to your preference. If you're the type of consumer who likes to save battery life, set the timer to the lowest allowed time possible so your device shits down almost instantaneously. If you're the type who takes your time in savoring the flavors and the aroma of each draw, set the timer to the longest allowed time possible before the miVape Portable Vaporizer shuts down.
The miVape Portable Vaporizer is the best portable dry herb vaporizer you can get for your money!
What's in the box:
1 x miVape Vaporizer
1 x Mouthpiece
1 x Cleaning Brush
1 x Users Guide
1 x Micro USB Cord
1 x Wall Charger Dual Voltage 110v / 220v
1 x Pick Tool (included in miVape)
2 x Quartz Cups
2 x Silicone Safety Cups
2 x Silicone Lids for Quartz Cups
2 x Stickers
3 x Spare Screens
10 x Waxy Oil Cloths
miVape Portable Vaporizer Tips & Tricks
Get the best deal on miVape Portable Vaporizer for sale online, visit VapeActive Coupons Page and get the best vaporizers for the best price. Check out our online vape discounts and deals, and because we're the best in the industry, we'll even match the sale price of any authorized reseller you can find.
QUESTIONS & ANSWERS
Have a Question?
Be the first to ask a question about this.
Ask a Question
Generally good
Purchase was great, as expected. The only complaint is the battery takes long time to charge and only lasts about 20 minutes during use.