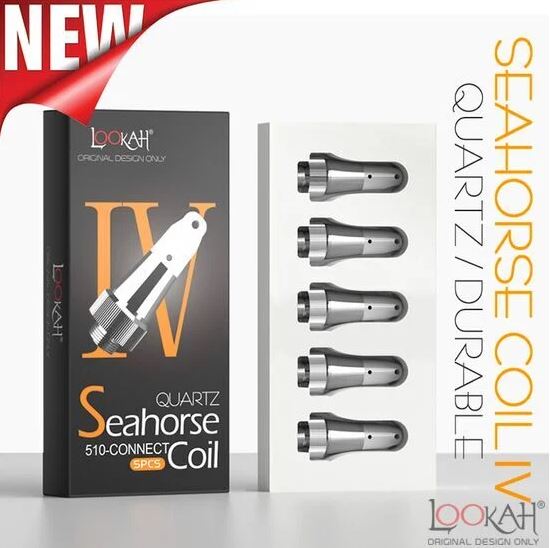 About the Lookah Seahorse Quartz Coil IV
Replacement Type IV dab tips for the Lookah Seahorse range of products. This dab coil is suitable for the Seahorse, Seahorse Pro, Seahorse Max, Seahorse 2.0, Seahorse X, and Seahorse Pro Plus vape devices. Comes in a pack of 5 coils.

These 510 coils have a quartz tip, due to the design the tip is stronger and more durable than the Lookah type 1 dab tips, it also benefits from better airflow. These type IV coils offer the same pure quartz flavor when dabbing wax and concentrate but are more durable.

**To ensure the quartz tip lasts as long as possible, make sure you fully burn all the concentrates off the tip after each dab. If you leave concentrates on the tip or inside the airways it will harden and possibly ruin or wear out the coil prematurely. **

**Don't clean the quartz or ceramic tip with the cleaning brush or any liquids/solvents, as this can damage the tip.**

Designed to work with the full Seahorse vape pen range these 510 coils improve upon the type I coils by increasing airflow and durability. The tip is made from porous quartz that when hot vaporizes the wax concentrate. This is an upgraded coil combining the best aspects of type 1 with improved airflow that creates fuller thicker vapor clouds. The improved durability will see them last longer as well.

It will fit all Lookah Seahorse Series vape products.

1.2 Ω Resistance.

Pack contains 5 coils.
Lookah Seahorse Quartz Coil IV Tips & Tricks
Get the best deal on Lookah Seahorse Quartz Coil IV for sale online, visit VapeActive Coupons Page and get the best vaporizers for the best price. Check out our online vape discounts and deals, and because we're the best in the industry, we'll even match the sale price of any authorized reseller you can find.
QUESTIONS & ANSWERS
Have a Question?
Be the first to ask a question about this.
Ask a Question