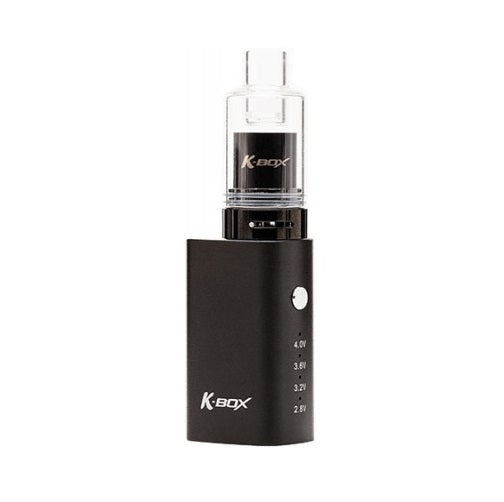 About The KandyPens K-Box Vaporizer
The KandyPens K-Box Vaporizer boasts a powerful Triple Quartz Rod Atomizer, paired with an unrelenting 900mAh battery, the K-Box wax vaporizer is a force to be reckoned with. The K-Box portable vaporizer also features top of the line ceramic chamber, glass mouthpiece, adjustable airflow, and variable voltage. All these combined make the K-Box the foremost option in portable wax vaporizers.
This hefty portable box vaporizer from KandyPens offers multiple preset voltage options. This portable vaporizer is perfect for beginners because of its uncomplicated operation.
The K-Box from KandyPens also emphasizes on portability apart from versatility. Its sleek minuscule design allows you to hold the K-Box easily on the palm of your hands, it can also be effortlessly stashed upright inside your pocket for an on the go action.
Triple Quartz Rod Atomizer
The KandyPens K-Box Vaporizer features a whopping three high-grade quartz heating rods. That's right, that's triple the power for that robust and intense wax vaping experience. The solid quartz coils specialize in slow and steady heat production to allow the generation and extraction of the smoothest, most flavorful and rich vapors.
The engineering behind the triple rod design allows wax concentrate enthusiasts more surface area, resulting in more beefy clouds and thick lumps of vapor. The vapor output produced by the K-Box is consistently intense, regardless of whatever voltage option you choose, you are sure to experience significant cloud production.
The K-Box performs surprisingly good for its short and stout construction. For such a small mod, the K-Box vaporizer offers the deep dish for larger loads and a leak-proof vaping experience. In addition to that the carefully thought of application of the ceramic dish is perfect for handling intense heat during sessions. The Idea is to let you enjoy the benefits of a vape pen while having intensified results due to the use of high-quality materials used in the wax vaporizers chamber.
Powerful Variable Voltage Battery
This pen type box mod vaporizer is equipped with extra strong 900mAh battery that allows you to enjoy huge, chunky masses of clouds while you revel in the tasteful flavors of you wax concentrate. Never has been a portable vaporizer this small produced this much power and vapor quality and extreme versatility. The K-Box from KandyPens provides you with everything you need.
Simple yet effective, you can toggle between its four preset voltage ranging from 4.0V, 3.6V, 3.2V, to 2.8V in just three clicks, an incredible range to have access to especially when vaping concentrates. These multiple options let you enjoy your select wax concentrated depending on how you like 'em.
The powerful battery can easily be charged from a multitude of power sources using the micro-USB cord, you can charge through your car, computer or laptop, a remote power bank and even on a wall outlet. Moreover, the battery life is more than just decent. The 900mAh battery will last moderate users who prefer the lower voltages through a couple of days, while heavy and more frequent users who are more satisfied with the stronger outputs and higher voltages would last a day with a fully charged battery. Now that's portable power.
Adjustable Airflow Feature
To further satisfy and empower vape enthusiasts, KandyPens K-Box features an adjustable airflow ring for that fully customizable vaping experience. This technology lets you adjust this portable wax vaporizer and find the perfect level of draw resistance for your vaping style.
Want ridiculous fat clouds? Go for the highest airflow setting to minimize draw resistance and pull off beefy cloud vapors, the lowest airflow settings, on the other hand, provides smaller, more tasty sips.
What's in the box:
1 x KandyPens K-Box Vaporizer
1 x Triple Quartz Rod Atomizer
1 x Glass Mouthpiece
1 x Adjustable Airflow Base
1 x Metal Loading Tool
1 x Wax Container
1 x 900mAh Variable Voltage Battery
1 x USB Charging Cable
KandyPens K-Box Vaporizer Tips & Tricks
How to

P

ower

O

n the KandyPens K-Box Vaporizer:
The KandyPens K-Box Vaporizer is essentially a small box mod that was designed to vaporize wax concentrates although it can accommodate different kinds of cartridges and atomizers for different kinds of materials with its 510-threaded battery attachment. And while the KandyPens K-Box Vaporizer functions and operates like most of today's vaporizers, the uninitiated might still have a hard time powering the device on. Here's how it's done.
Make sure that the battery is fully charged. For optimum performance, make sure to fully charge the battery before use.

Click the power button 5 times rapidly to power the KandyPens K-Box Vaporizer on. When powered on tap the button three times to cycle through the preset temperature settings. Pressing the power button 5 more times when powered on will turn the KandyPens K-Box Vaporizer off.
Operating the KandyPens K-Box Vaporizer is fairly easy and was made this way to maintain convenient operation and ease of use.
How to

C

ycle Through

the

D

ifferent

T

emperature

L

evels:
The KandyPens K-Box Vaporizer is a box mod vaporizer that has different voltage levels allowing consumers to enjoy a more personalized vaping experience by selecting different heat profiles to suit their every need. Because KandyPens knows that no two individuals are the same, they ensured that the KandyPens K-Box Vaporizer is outfitted with different voltage levels to get different consumers to where they want to be in terms of overall user experience.
To cycle through the different heat settings simply tap the power button three times when powered on.
Here are the respective temperature levels available on the KandyPens K-Box Vaporizer.
Level 1: 2.8 v

Level 2: 3.2 v

Level 3: 3.6 v

Level 4: 4.0 v
These temperature profiles are fine-tuned for optimum wax concentrate use although they can still exact the best flavors and vapors from your select thick oils and dry herb strains. Just remember to use the right atomizer when vaping a different type of material.
How to

G

et

L

arger

H

its or

B

etter

F

lavor

W

ith the KandyPens K-Box Vaporizer:
The KandyPens K-Box Vaporizer is not only customizable through the different temperature profiles that the small and compact box mod makes available for users and consumers of different types. It also features a built-in airflow adjustment tool which increases or decreases the amount of air that passes the atomizer.
This small but significant addition to the KandyPens K-Box Vaporizer allows consumers to get larger vapor production of better flavor retention depending on how they want their sessions to be. Ideally, the more air you let in, the larger the vapor production is. However, this significantly reduces the amount of flavor the KandyPens K-Box Vaporizer produces. The idea is that air lets the e-liquids dry out faster, the less air on the coils, the more flavor you get since the e-liquids take longer to evaporate thus having to give you better flavor retention. The more air coming in, the larger the clouds are but the lesser the flavor is.
Get the best deal on KandyPens K-Box Vaporizer for sale online, visit VapeActive Coupons Page and get the best vaporizers for the best price. Check out our online vape discounts and deals, and because we're the best in the industry, we'll even match the sale price of any authorized reseller you can find.
QUESTIONS & ANSWERS
Have a Question?
Be the first to ask a question about this.
Ask a Question
KandyPens K-Box Vaporizer
KandyPens K-Box Vaporizer
Love my K-box
Awesome hits nicely made!
Hits great
Hits awesomely great and it gets the real taste