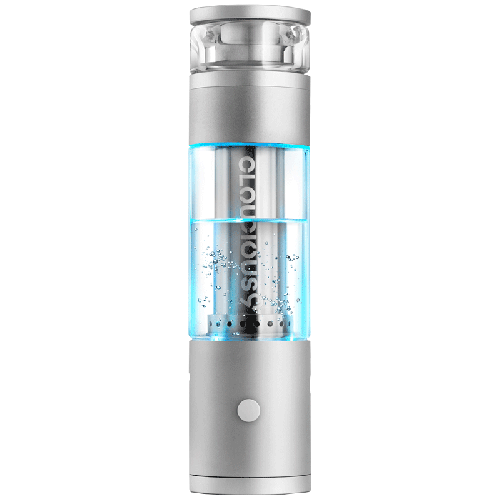 About the Cloudious9 Hydrology9 Portable Vaporizer
Equipped with the Finest
Cloudious9 is making its way up the ladder of stardom and shaking up the vaping industry with the state of the art Hydrology9 portable vaporizer. There is no doubt that Cloudious9 made this amazing dry herb vaporizer the best of the best to make sure that they will leave their customers dropped jaw and full of awe is it is an instant indicator that the Hydrology9 is a portable vape that is like no other. Its high-quality leak-proof water filtration soothes and cools your vapors ensuring that it will give you some more fantastic draws on each puff. Also, the integrated oven stir tool delivers the amazing feature that your materials will always be evenly vaporized leaving your session and making sure that no combustion will arise while using your herb pen. Cloudious9 used only the finest and the most premium materials in making the Hydrology9 Portable Vaporizer: An aircraft quality aluminum that will last you a long time with no rusting, a porcelain oven that is unified with the borosilicate glass that brings you premium-quality vapors every single time. With all these amazing features, you definitely get a great value of your money as you can get this awesome vaporizer with just the fraction of the price when compared to similar vaporizers in its class. Who would have thought that something as amazing as the Hydrology9 Portable Vaporizer would exist in the market as a portable herb pen and not as big as a desktop vaporizer as everyone though?
Portability
As shocking as it gets, all of what Cloudious9 offers are something you can carry around with ease. It may be bigger than other pens but it definitely can be transported anywhere you wish. With its hand-held feature, you can easily have your session anytime and anywhere. Vaping in public crowded place is now something you can do as you can just grab and go with the Hydrology9 Portable Vaporizer. To a concert, a walk in the park or even if you are just at home, your sessions will just be a breeze as you can just use this in one hand. Press, inhale and puff and you are good to go. It's that simple.
Long Lasting Battery
A whopping 2000mAh LiPo Battery, The Hydrology9 Portable Vaporizer by Cloudious9 can surely last you long most especially if you prefer a long-lasting and intense session when you do your vaping session. With the capacity of this battery, you will never worry about any interruption while your portable herb pen is in use. You can use it best when you're out and running task as you don't need to worry about having it recharged every now and then.
How to Care for your Hydrology9 Portable Vaporizer
The Hydrology9 gives you an easy cleaning built. Simply unscrew all the parts, and clean all non-electronic parts with a microfiber cloth and isopropyl alcohol. Rinse all non-electric items with water to remove all traces of the alcohol. Allow to dry completely.
WHAT'S IN THE BOX:
1 x Hydrology9 Vaporizer
1 x Cleaning Kit Set
1 x AC Adapter & Charging Cable
1 x User Manual
Cloudious9 Hydrology9 Vaporizer Tips & Tricks
How to Use the Cloudious9 Hydrology9 Vaporizer:
The Cloudious9 Hydrology9 Vaporizer is a premium dry herb vaporizer manufactured by Cloudious9. The Cloudious9 Hydrology9 Vaporizer is a unique dry herb vaporizer and breaks the mold in more ways than one. First, it's got its own water filtration system which allows you to enjoy moisture-conditioned hits almost every time. It's also made with high-quality materials like an anti-rust space-grade aluminum material that keeps the body of the Cloudious9 Hydrology9 Vaporizer in peak condition. The Cloudious9 Hydrology9 Vaporizer also features a food-grade porcelain chamber that maintains the overall integrity of your ground botanicals. The Cloudious9 Hydrology9 Vaporizer also uses borosilicate glass and strong magnets and banks on the use of premium components to make your overall experience likewise feel premium. The Cloudious9 Hydrology9 Vaporizer uses optimized heat settings that were designed and engineered for optimum dry herb vaporization. Each temperature profile is carefully selected to provide you with superior results and an even better experience. Here's how you get started with the Cloudious9 Hydrology9 Vaporizer.
Filling the Cloudious9 Hydrology9 Vaporizer

with

Water:
The Cloudious9 Hydrology9 Vaporizer has its own integrated water filtration unit, to fill it up please follow the steps below.
Remove the mouthpiece by lifting it away from the unit until it's no longer drawn by the magnetic connection.

Once you've removed the mouthpiece fill the water chamber with water. Fill the chamber with only about 70% of water to allow proper airflow in the water chamber.

Once you've filled it with water, replace the Cloudious9 Hydrology9 Vaporizer mouthpiece until the magnets snap back together.
Loading the Cloudious9 Hydrology9 Vaporizer:
The Cloudious9 Hydrology9 Vaporizer is a dry herb vaporizer and uses a porcelain chamber to vaporize the herbs. To get the best results, make sure to grind your herbs as ground-up herbs allow you to cover better surface area compared to raw botanicals.
Make sure to secure a fully charged battery before usage.

Flip the Cloudious9 Hydrology9 Vaporizer upside down.

Remove the bottom chamber of the Cloudious9 Hydrology9 Vaporizer which will expose the heating chamber.

Fill the small hole up with your ground-up materials and cover the heating chamber once you've loaded up your ground herbs.

Flip the Cloudious9 Hydrology9 Vaporizer right side up.
Setting the Temperature Profiles:
The Cloudious9 Hydrology9 Vaporizer boasts optimized heat settings, each heat profile is calibrated to provide you and your herbs the ideal temperature level for superior vaporization and extraction of the active ingredients your botanicals hold.
Each temperature profile is represented by an illuminated LED light on the unit, please follow the steps below to toggle through the temperature settings.
Make sure the device is powered on, press the power button three times to activate the Cloudious9 Hydrology9 Vaporizer.

To toggle through the heat settings, simply press the button once and cycle through the available temperature profiles and select the profile that fits your needs.
Get the best deal on Cloudious9 Hydrology9 Vaporizer for sale online, visit VapeActive Coupons Page and get the best vaporizers for the best price. Check out our online vape discounts and deals, and because we're the best in the industry, we'll even match the sale price of any authorized reseller you can find.
QUESTIONS & ANSWERS
Have a Question?
Be the first to ask a question about this.
Ask a Question
Satisfactory performance
Great clean draww amazing quality!!
very happy
Im happy with this unit, customization is everything for me and this one has it
Great value for product
This is what you can consider an investment as it has such an amazing performance and stellar quallity
Nailed it!
This is wow all I needed!