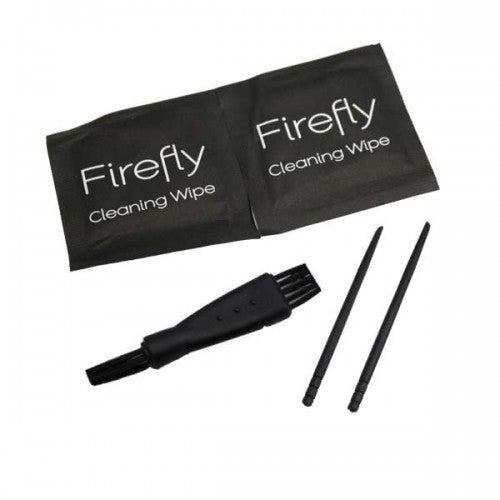 About the Firefly Cleaning Kit
The Firefly Cleaning Kit is made perfectly for cleaning and maintaining your favorite Firefly Vaporizer with ease and convenience. It helps you keep your Firefly vaporizer as clean and fresh as it can be for exceptional and superb vapor production. Firefly Cleaning Kit includes everything you need to keep your Firefly in tip-top shape. It has a specially made cleaning brush that you can use to brush off the residue of your herbs and flowers inside the chamber, It also has 2 stir tools that work best with waxy oils concentrates that are left after your vaping session, those of that is hard to remove as it becomes sticky when left on the vapor path, and lastly the generally used firefly cleaning wipes that comes in two packs with Isopropyl Alcohol that finishes all the dirt that is left for a squeaky clean and brand new looking Firefly Vaporizer.
The Firefly Cleaning Kit is very easy to use, you just have to open your Firefly Vaporizer (can also be used with other vaporizers for cleaning). Brush off any residue from your herbs and flowers or tick off your wax residue using your stir tool for a clear path to clean. Wipe the rest with the alcohol wipes included.
WHAT'S IN THE BOX
2 x Stir Tools
2 x Alcohol Wipes
1 x Cleaning Brush
Firefly Cleaning Kit Tips & Tricks
Get the best deal on Firefly Cleaning Kit for sale online, visit VapeActive Coupons Page and get the best vaporizers for the best price. Check out our online vape discounts and deals, and because we're the best in the industry, we'll even match the sale price of any authorized reseller you can find.
QUESTIONS & ANSWERS
Have a Question?
Be the first to ask a question about this.
Ask a Question