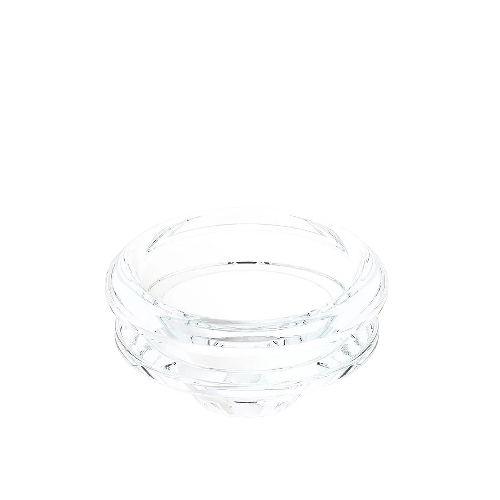 About the Eyce Replacement Glass Bowl
Those who like to keep it lit always need backup components whether they use dry herb vaporizers or other smoking accessories like the Eyce Spoon. It's an authentic product from Eyce Molds and ensures perfect fit and compatibility with your Eyce Spoon spoon pipes. It's made with durable borosilicate glass making it the perfect glass bowl for your smoking needs.
Borosilicate glass is known for its ability to withstand thermal shock. When smoking, your glass bowl is subjected to heating and cooling which may cause different parts of weaker glass to expand in different places. When this happens glassware with weaker parts may crack and break. This is why Eyce Molds stuck with using borosilicate glass to ensure that the Eyce Replacement Glass Bowl won't easily break during use and will withstand even the most demanding of sessions. Borosilicate glass is also inert, a natural feature of glass materials. This means that even when put to high-temperature levels, the Eyce Replacement Glass Bowl will not bleed and will not have any kind of chemical reaction on your herbs. The Eyce Replacement Glass Bowl is the one and only replacement part for your Eyce Molds smoking paraphernalia should you break or lose any of the glass bowls used on them.
So, if you're using an Eyce Molds spoon pipe or any of their smoking accessories, make sure to grab and stock up on the Eyce Replacement Glass Bowl so you'll have long and continuous sessions.
Replacement Glassware
The glass bowls used on Eyce Molds smoking kits like the Eyce Spoon is relatively small. While they can accommodate a decent amount of material, they can be small enough to easily be lost and misplaced. When this happens, you won't be able to use any of your smoking implements unless you have a replacement glass bowl. The Eyce Replacement Glass Bowl is the perfect glass bowl to use on these occasions. It was made to match Eyce Molds smoking pipes specifications so you won't have any issues with fitting or measurement.
Apart from fitting and compatibility, another factor you need to consider when selecting a replacement component is availability. Let's face it, you won't always be able to find a store that sells glassware for your Eyce Spoon pipe. You simply can't risk cutting sessions short or not consuming your favorite herbs at all, especially if you rely on your smoking pipe for your daily dose of botanical medication.
Keeping one or two Eyce Replacement Glass Bowls on your arsenal will ensure that you're going to have something to cover your sessions should the time come that you lose or break your glass bowl. The Eyce Replacement Glass Bowl is a true essential to your daily smoking rituals so it's best to always carry spare glass bowls to ensure continuity of your sessions. Your Eyce Glass Bowls are durable and reliable but they're not indestructible. Make sure to buy your Eyce Replacement Glass Bowls now!
What's in the box:
1 x Eyce Replacement Glass Bowl
Eyce Replacement Glass Bowl Tips & Tricks
Get the best deal on Eyce Replacement Glass Bowl for sale online, visit VapeActive Coupons Page and get the best vaporizers for the best price. Check out our online vape discounts and deals, and because we're the best in the industry, we'll even match the sale price of any authorized reseller you can find.
QUESTIONS & ANSWERS
Have a Question?
Be the first to ask a question about this.
Ask a Question