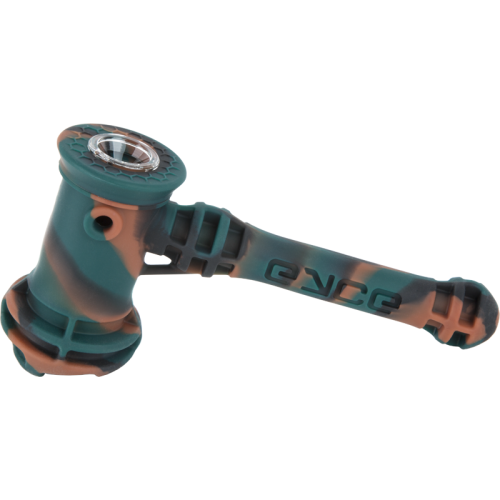 About The Eyce Bubble Silicone Bong
You just can't go wrong with a silicone bong, an Eyce standard, the Eyce Bubbler is made only of platinum cured silicone material which makes it nearly indestructible. Perfect for on the go aficionados, put in your bag, in your pocket or in your purse, the Eyce Bubbler is designed to last. Apart from its superiorly durable platinum cured silicone plastic, it features borosilicate made glass bowl, an ultra durable glass material made to resist high heat temperatures and capable withstanding successive repetitive use.
The perfect rubber paired with the perfect glass material. The Eyce Bubbler is the bubbler for the active dry herb strain consumer.
No need to worry about dropping your bubbler, It's superiorly tough compared to most units in its class.
Inlaid Borosilicate Glass Bowl
One of the main components of this premium bubbler is its top of the line glass bowl. Its Inlaid Borosilicate Glass Bowl is the product of melting boric oxide, silica sand, soda ash, and alumina. These glass-forming constituents provide this bubbler's glass bowl with superior resistance to thermal shock. Because of its low coefficient to thermal expansion, it has seen common use in laboratories.
Such is the durability of this material that almost all modern day laboratory glassware is made of borosilicate glass. Therefore, it is only the most befitting choice to use the same quality of glassware in Eyece's premium products such as the Eyce Bubbler.
What's in the box:
1 x Eyce Bubbler
1 x Platinum-Cured Silicone Body and Stem Cap
1 x Inlaid Borosilicate Glass Bowl
1 x Stash Jar
1 x Poker
Eyce Bubbler Tips & Tricks
Get the best deal on Eyce Bubbler for sale online, visit VapeActive Coupons Page and get the best vaporizers for the best price. Check out our online vape discounts and deals, and because we're the best in the industry, we'll even match the sale price of any authorized reseller you can find.
QUESTIONS & ANSWERS
Have a Question?
Be the first to ask a question about this.
Ask a Question