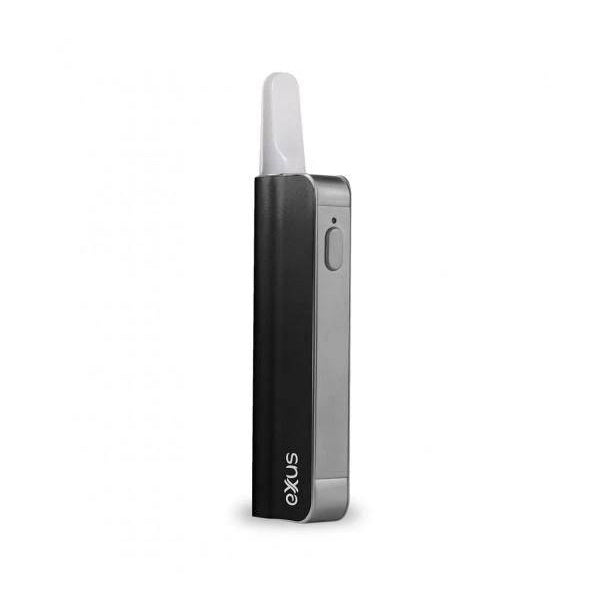 About The Exxus Snap VV Vaporizer

From the makers of the original Exxus Snap vaporizer comes the second iteration of the Snap model, the Exxus Snap VV -- "VV" stands for variable voltage -- while the original Snap vaporizer features three temperature settings the new Exxus Snap features four temperature profiles. The variable voltage battery is fine-tuned to provide you with the best oil concentrate experience. The Exxus Snap VV, like its predecessor the original Exxus Snap, allows you to fill its cartridges with your favorite oil concentrate blends.

The new Exxus Snap VV by Exxus Vape uses premium ceramic components which improve the quality of your oil concentrates and elevates your overall vaping experience. Ceramic is known for its porous attributes, it can absorb liquefied materials which permeates the ceramic components and results to vapors with fuller flavors. Ceramic preserves the unique flavor notes of your select oil concentrates and conserves its aroma and potency. Ceramic also promotes low and slow burning and evenly disperses heat to your materials, it repels heat longer than any other components unlike titanium and quartz. Ceramic's pure nature allows it to keep your vapors tasting clean without the hint of burnt oil, it heats up your oil concentrates without reaching the point of combustion. Apart from its superior heating components, the Exxus Snap VV by Exxus Vape uses medical-grade glass pieces. It's glass pieces allows the Exxus Snap VV to deliver smoother vapors without alteration in taste.

The Exxus Snap VV Design

The Exxus Snap VV was designed and engineered to provide you the best vaping experience you've never had. Its components have been carefully selected to help you get the most out of your materials. The Exxus Snap VV deviates from the original Snap design, the box mod covers all of the cartridges' body allowing only the mouthpiece poking out. This helps protect the glass piece should you be keeping the Exxus Snap VV inside your pocket or in your bag. This means you'll experience few to no spills and breakage, saving you from unnecessary mess when you stash your Exxus Snap VV vaporizer inside your pocket. No more oil stains and best of all no more wasting materials.

The Exxus Snap VV vaporizer sports magnetic connections that allow you to conveniently swap or reload materials onto the cartomizer without much of a fuss. This is useful especially when you're reloading oil concentrates outside. No more screwing and replacing vaporizer components.

Simple and Straightforward

The Exxus Snap VV by Exxus Vape requires very little to no learning curve at all, especially if you've used other vaporizers before. Just press the power button 5 times to power it on and tap and hold the power button to fire the vaporizer. It turns off by performing the same 5 click operation when turning on the vaporizer, don't worry if you forget to turn it off since the Exxus Snap VV is outfitted with a standby mode and keeps itself in this mode after a certain time of being inactive to conserve battery and also works as a safety measure.

The Exxus Snap VV is a complete vaping kit including everything you need to help you get started. It's the perfect portable vaporizer that's recommended for both beginners and advanced users alike.

What's in the box:

1 x Exxus Snap VV Vaporizer
1 x Glass Cartomizer
1 x Large Magnetic Ring
1 x Small Magnetic Ring
1 x USB Charging Cable
1 x User Manual
Exxus Snap VV Vaporizer Tips & Tricks
How to Use Exxus Snap VV Vaporizer:
The Exxus Snap VV Vaporizer is a cartridge vaporizer from Exxus. It's made with a wider cartridge chamber to accept larger cartridges. The Exxus Snap VV Vaporizer connects the cartridges to the battery via its inclusive magnetic rings. The rings are 510-threaded which means they are compatible with almost all 510-threaded cartridges on the market today. This allows you to explore and have the liberty to try out many cartridges with manufacturer brewed extracts. The Exxus Snap VV Vaporizer is backed by a powerful battery that's made to look slim and sleek. While it boasts this slim and portable form factor, it still is packed with a hefty battery capacity allowing it to sustain lengthy vape sessions and will not show an obvious drop in performance even when nearing low battery status. The Exxus Snap VV Vaporizer also offers variable voltage levels that give you more customizability options for when you need to achieve different results using one cartridge. It's also outfitted with a preheat setting which is useful when you want to achieve fast results and better airflow for when you're vaping on-the-go. Here are a few instructions to help you get started with your Exxus Snap VV Vaporizer.
Powering the Device On:
Like many other vaporizers, the Exxus Snap VV Vaporizer needs to be powered on before use. Since it's a portable vaporizer and is powered by a rechargeable battery pack, we strongly recommend recharging the battery first before use for the best results.
Once you've secured a fully charged battery, you may press the power button on the

Exxus

Snap VV Vaporizer five times rapidly. Doing so will activate the unit.

You may press the power button five more times when the

Exxus

Snap VV Vaporizer is on to turn the battery off.
Knowing how and when to power the device on and off will allow you not only to prevent unwanted and accidental misfires but also helps you in conserving battery life which allows longer vaping sessions.
Changing the Voltage Settings:
The Exxus Snap VV Vaporizer is capable of changing the voltage level of the device allowing you to achieve different results while still using one battery and one cartridge. Lower temperature levels facilitate more flavorful vapor production while higher temperature settings give you denser clouds and thicker vapors.
If you need to change the voltage level of your Exxus Snap VV Vaporizer, here's how you go about doing it.
Make sure the device is powered on by pressing the power button five times rapidly.

Press the power button three times to toggle through the available preset modes.
Here are the available settings.
4.0 volts

3.8 volts

3.6 volts

3.4 volts
You can also activate the preheat settings of the Exxus Snap VV Vaporizer by pressing the power button two times.
The Exxus Snap VV Vaporizer focuses on performance and delivering hard-hitting vapors in a small and compact cartridge battery.
Get the best deal on Exxus Snap VV Vaporizer for sale online, visit VapeActive Coupons Page and get the best vaporizers for the best price. Check out our online vape discounts and deals, and because we're the best in the industry, we'll even match the sale price of any authorized reseller you can find.
QUESTIONS & ANSWERS
Have a Question?
Be the first to ask a question about this.
Ask a Question
Great product
Have friends that have used the snap for a while..always wanted one. In trying to support local vape shops I looked way to long and waited for stock to come.. just couldn't wait anymore. Love the product