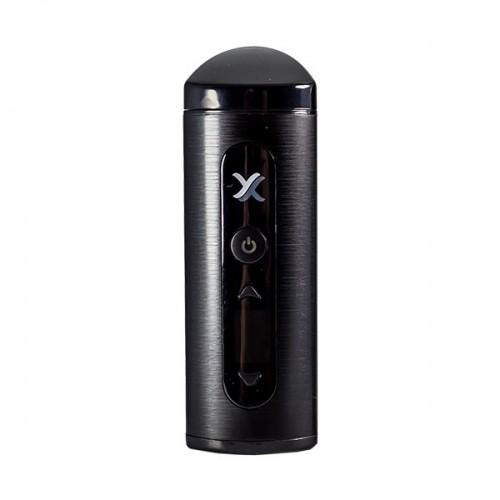 About The Exxus Mini Vaporizer

The Exxus Mini is one of the smallest dry herb vaporizers on the market today. Standing at only four inches tall, the Exxus Mini is one of a kind. This tiny trinket boasts advanced level technology which makes it one of the most sought-after units by dry herb strain aficionados in the vaping scene. The Exxus Mini allows vaping enthusiasts to enjoy superbly smooth vapors on the fly.

Because busy is the new happy, the Exxus Mini was made with the working botanical aficionado in mind. The Exxus Mini dry herb vaporizer works best when you want to vape for short periods of time, during short breaks in the office, or even for when you stroll by yourself around town. The Exxus Mini dry herb strain vaporizer helps you reach that high regardless if you're a recreational vaper or a medicating consumer the Exxus Mini is the perfect dry herb vaporizer for you.

Small But Terrible

Although it's small in size, the Exxus Mini features advanced vaping technology found in most vaporizers twice or even triple its size. The Exxus Mini is equipped with an anodized steel heating chamber which faithfully preserves the flavor profile of your select dry herb strains. It has a maximum temperature level of 410 degrees F and uses convection heating.

The science behind convection heating system pulls hot air over your select dry herb strains when you draw instead of the conventional method of conducting heat through the heating materials which heats your herbs through direct contact with the oven walls.

This revolutionary engineering ensures that the heat source never touches your materials which prevents you from getting charred and wasted herbs. This means your choice materials are only exposed to heat when you draw, faithfully preserving the essence and potency of your dry herb strains while maintaining its flavor and taste. The enhanced heat retention rings ensure the highest level of convection vaporization. Altogether these components combine to provide you the best vaping experience on the go.

Sophisticatedly Strong

The Exxus Mini is a portable dry herb vaporizer aimed at the right direction. It's compact, portable, durable and easy to operate. It's best for beginners for its simple, uncomplicated and straightforward operation.

In this respect, the Exxus Mini stands as a great option; a simple, user-friendly portable vaporizer that is designed to match products twice its price. It features a three-button control, simple cleaning and parts replacement, discreet design and effective vapor. This simple operation makes the Exxus Mini a vaporizer that requires minimum maintenance, something that most newcomers and novices are looking for. It even features an automatic shut off feature which does not only make the Exxus Mini a safer option but also an efficient choice. The automatic shut off feature ensures the Exxus Mini does not suffer from any accidental misfires when you stash it away in your pocket. It also extends your usage because it saves the battery from unnecessary use.

Vape newcomers will no longer have to sacrifice functionality for affordability. Its high-quality material construct even makes the unit feel durable enough to withstand a fair amount of carrying and use activity. The Exxus Mini's feature is not only appreciated by vape newcomers but by seasoned veterans alike.

What's in the box:

1 x Exxus Mini
1 x Silicone Mouthpiece
1 x Cleaning Tool
1 x Cleaning Brush
1 x USB Cable
1 x User Manual
Exxus Mini Vaporizer Tips & Tricks
How to Use the Exxus Mini Vaporizer:
The Exxus Mini Vaporizer is a small and compact dry herb vaporizer that boasts superior dry herb vaporization through its full convection ovens. This means that the Exxus Mini Vaporizer vaporizes your select botanical plant matter by using a stream of hot air instead of relying on the walls of the oven to vaporize the ground herbs. Convection ovens in vaporizer are known for their ability to faithfully preserve the qualities of the materials vaporized in them and extract their active ingredients without reaching the point of combustion. The Exxus Mini Vaporizer also sports an adjustable temperature setting from 320 degrees Fahrenheit to 410 degrees Fahrenheit. This wide range of temperature flexibility allows you to explore and enjoy all the benefits your select dry herb strains have to offer. All that's happening in the Exxus Mini Vaporizer is displayed on a crisp screen which gives you all the information you need without crowding or having to flood you with details making the Exxus Mini Vaporizer an ideal portable dry herb vaporizer to take with you almost anywhere you need to go. Here are a few tips to get you started using your Exxus Mini Vaporizer.
Use and Operation:
The Exxus Mini Vaporizer can be used and operated like most dry herb vaporizers. Having said, the Exxus Mini Vaporizer is a great option for beginners and advanced users alike since you can use it with very little to no learning curve at all.
Here's how you get started.
Make sure that the

Exxus

Mini Vaporizer battery is fully charged.

Once you've secured a fully charged battery, you can press the power button five times rapidly. This powers the device on.

Pressing the

Exxus

Mini Vaporizer power button five more times when it's on will cut the power from the unit.
Setting the Temperature:
The Exxus Mini Vaporizer is outfitted with precision temperature settings allowing you to precisely alter the temperature profile so you can get the desired results from your favorite botanical blends.
Here's what you need to do.
Make sure that the

Exxus

Mini Vaporizer is powered on.

When the

Exxus

Mini Vaporizer is turned on, use the directional up and down buttons to set your desired temperature level.
You can also change the temperature readout from Celsius to Fahrenheit.
Press and hold the down button for three seconds to select Fahrenheit.

Press and hold the up button for three seconds to select Celsius.
Loading Tips:
Make sure to grind your botanicals before loading your

Exxus

Mini Vaporizer.

The

Exxus

Mini Vaporizer uses a full convection oven so it works best with ground-up materials allowing the heated air to effectively permeate the herbs.

Loosely fill the

Exxus

Mini Vaporizer herb chamber to promote better airflow.

Pack it lightly and do not press the herbs tightly for best results.

Stir the herbs occasionally to allow the ground botanicals to be heated evenly.
Get the best deal on Exxus Mini Vaporizer for sale online, visit VapeActive Coupons Page and get the best vaporizers for the best price. Check out our online vape discounts and deals, and because we're the best in the industry, we'll even match the sale price of any authorized reseller you can find.
QUESTIONS & ANSWERS
Have a Question?
Be the first to ask a question about this.
Ask a Question
Don't be deceived!
Don't be deceived by its size. This product works like bigger vaporizers out there. Even my friends are amazed and wants to get one too!