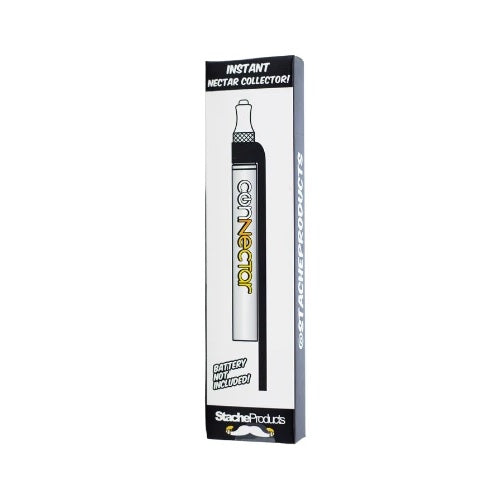 About the ConNectar
The ConNectar is a 510-threaded accessory made and manufactured by Stache Products, makers of the Stache Products RiO portable eRig. The ConNectar is a portable heating element or atomizer that can turn your spare batteries into a nectar collector. The ConNectar uses a ceramic coil which means that it can vaporize your wax concentrates without reaching the point of combustion. For the uninitiated, ceramic is a sought-after component that makes for an ideal heating element used for wax concentrates because ceramic facilitates the ideal heating environment for your wax concentrates. By heating your wax concentrates low and slow, the ConNectar can easily extract the flavorful and aromatic active ingredients from your wax concentrates allowing you to enjoy flavor sessions with smooth vapor production. But that's not to say that the ConNectar can't ramp up heat. When paired with the SLIM battery from Stache Products, the ConNectar can reach higher temperature levels and can extract the more potent active ingredients from your wax concentrates allowing you to reap its psychoactive benefits. When paired with a variable voltage battery, the ConNectar can give you varied results from your waxy oil extracts from vapors that induce rest and relaxation to ones that facilitate deep sleep and meditation.
The ConNectar is a great accessory to have with you whether you're someone who likes to da at home or an outdoorsy person who likes to take your sessions wherever you go. What's more, the ConNectar can be more than just a backup accessory and instead a daily driver that lets you reap the benefits your favorite wax concentrates have to offer. Make sure to be one of the first few owners of this handy accessory from Stache Products and buy your ConNectar only here at VapeActive.
On-Demand Nectar Collector
The ConNectar is an on-demand nectar collector allowing you to dab directly from your wax container regardless of whatever 510-threaded battery you have with you. As a nectar collector, the ConNectar lets you break free from the restrictions of the traditional dab pen. Conventional wax vaporizers use wax atomizers that will leak when packed with a lot of wax concentrates. On the other hand, using a nectar collector lets you dab as big of a load since you're no longer limited to the size that your atomizer can accommodate. This makes for a great accessory especially for advanced and experienced consumers because it lets them enjoy their favorite extracts to their hearts content. Using the ConNectar is also as simple as it is convenient. Just screw in the airflow base to your 510-threaded battery, push down the ConNectar mouthpiece on the airflow base, and screw the coil on the airflow base.
Speaking of which...
Another benefit of using the ConNectar is its ability to hold fast and secure on your 510-threaded batteries. Compared to those that use magnetic connections, the ConNectar can ensure that it won't get knocked off during use and even when you store it for the upkeep. The threaded links can securely keep the ConNectar seated on the battery and vice versa.
What's in the box:
1 x Airflow Base
1 x Straw Mouth Piece
1 x Ceramic Coil
ConNectar Tips & Tricks
Get the best deal on ConNectar for sale online, visit VapeActive Coupons Page and get the best vaporizers for the best price. Check out our online vape discounts and deals, and because we're the best in the industry, we'll even match the sale price of any authorized reseller you can find.
QUESTIONS & ANSWERS
Have a Question?
Be the first to ask a question about this.
Ask a Question