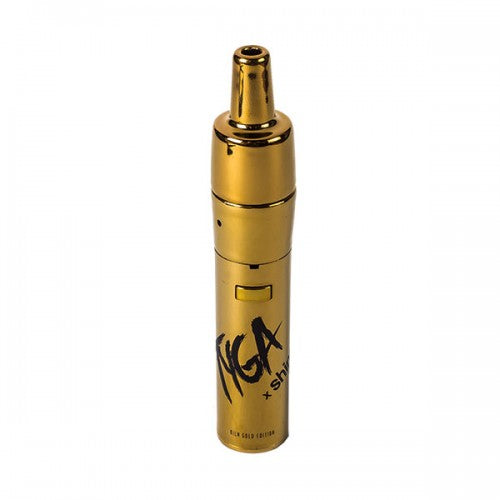 About Atmos Tyga x Shine Kiln RA Dab Pen
Atmos teamed up with Rapper Tyga and his business partner Shine rolling papers to create a high-performance, elegant looking vape pen for waxy oils, the Atmos Tyga x Shine Kiln RA Vaporizer Kit. This dab pen is an updated rendition of the initial Kiln RA Kit, the team did a wonderful job in improving the performance of this wax pen with a very brilliant and fashionable design because of its scratch-resistant surface reflective metallic finish that comes with gold or silver that makes it elegant, high-end look and feels smooth to touch vaporizer. This device is very easy to maintain, very appealing to the eye and is the best-rated, reliable and efficient vaporizer in its category.
Powerful Sub-Ohm Lithium-ion Battery
This dab pen is equipped with a compact 950mAh Lithium-ion rechargeable Battery that offers a long span battery life. This powerful Sub-Ohm Battery is managed by a user-friendly one button for easy use, making the Kiln RA vaporizer the best choice for users who prefer discreet and portable pen type vaporizer that gives thick clouds and a massive amount of vapor in just a moment's notice by doing one push from the button. The battery lasts longer than any other vape batteries to give you the maximum experience that can be charged from almost anywhere with its micro-USB charging method. The brilliant product also features the pass-through charging function that enables you to charge your device while using your vaporizer so there wouldn't be a need for you to wait for the device to be fully charged.
100% Ceramic Deep-Dish Heating Chamber
The Tyga x Shine Kiln RA was specially designed to satisfy the needs of vapers looking for extremely flavorful waxy oil hits. It all-ceramic heating chamber was engineered by the creators to have a deep ceramic chamber that holds more wax concentrates compared to other wax vape pens. No need to waste time to reload the heating chamber with its deep ceramic chamber. By using 100% ceramic material for the Tyga x Shine Kiln RA Kit's heating chamber, the flavor won't be compromised as compared to plastic and metal chambers. The all-ceramic heating chamber heats up your wax quickly and delivers flavorful clouds from your chosen wax concentrate. Not only is it time-saving to not have to refill your chamber, but It's also made to give you a satisfyingly flavorful vaping experience.
Replaceable 510 Threaded Atomizer
This dab pen can give wax concentrate enthusiast a simple process by replacing or rebuilding the atomizer because of its dual post system construction. All you have to do is to remove the two screws using the Allen wrench that is included in the box then add the new atomizer and reattach it, that is how simple it is compared to how we do it before by replacing the entire atomizer. Starting from the core of the atomizer, the Kiln RA has a 510 thread ceramic chamber format. By simplifying the process, the Tyga x Shine Kiln RA vapers have the ability to replace only the ceramic deep-dish heating chamber of the atomizer which is not only cost efficient but is also extremely convenient for all aficionado's. No need to purchase the entire atomizer, since only the deep-dish ceramic chamber needs to be replaced. With the innovative dual post system, you can conveniently replace your atomizer in just a couple of seconds making this fascinating dab pen stand out from all its competitors.
What's in the box:
1 x Atmos Tyga x Shine Kiln RA Vaporizer
1 x User Manual
1 x 950mAh Dual-IC Protected Lithium-ion Battery
1 x Micro-USB Charger
1 x Ceramic Housing
1 x Connector Base
1 x Allen Wrench
1 x Golden Packing Tool
1 x Ceramic Heating Disc Atomizer
Atmos Tyga X Shine Kiln RA Vaporizer Kit Tips & Tricks
Get the best deal on Atmos Tyga X Shine Kiln RA Vaporizer Kit for sale online, visit VapeActive Coupons Page and get the best vaporizers for the best price. Check out our online vape discounts and deals, and because we're the best in the industry, we'll even match the sale price of any authorized reseller you can find.
QUESTIONS & ANSWERS
Have a Question?
Be the first to ask a question about this.
Ask a Question
Great piece!
Awesome little piece! I love it